Achieve Italy national team A precious victory over his Turkish counterpart, by three goals, in the match between the two teams, Friday evening, at the "Olympico" stadium in the Italian capital, Rome, in the opening of the European Nations Championship "Euro 2020In the first group matches.
The first group also includes Switzerland and Wales, and they will meet in a strong confrontation on Saturday in the Azerbaijani capital Baku.
The first half ended in a goalless draw, as the game started quietly, until the 18th minute, which witnessed the first chances of the match from the Italian team, after a wonderful double game between Berardi and Insigne, whose shot sidelined the post.
In the 21st minute, Italian striker Shiro Immobile dribbled and fired a powerful shot that hit the Turkish defender, amid calls for a penalty kick from the Azzurri players.
The Italian team came close to scoring in the 22nd minute, this time through a dangerous header by captain Giorgio Chiellini, but the goalkeeper brilliantly takes it to a corner kick.
Immobile came close to opening the score for Italy in the 33rd minute, but his header went sideways near the left post.
In the second half, Italy put pressure on the opponent's goal, and Turkey defender Merih Demiral scored the first goal for the Italians in the 53rd minute, after turning Domenico Berardi's cross into his country's goal.
Striker Shiro Immobile scored the second goal in the 66th minute, after he followed the shot that rebounded from the Turkish national team goalkeeper after a strong ball from Spinazzola.
And in the 79th minute Lorenzo Insigne scored the third goal for Italy, after the Turkish goalkeeper missed the ball to reach the Italian players. Immobile passed the ball to Insigne, who shot it directly into the goal.
euro

The competitions for the 16th edition of the European Nations, which will continue until July 11, will be held with the participation of 24 teams, amid strict procedures in 11 European cities, due to the spread of the new Corona virus "Covid 19", which caused the postponement of its launch for a year after it was scheduled for the summer of 2020.
The Italian national team, which is one of the candidates for the title, records its tenth appearance in the European Nations Cup finals for the tenth time in its history and the seventh in a row, as it succeeded in winning the title once in 1968, while losing the final twice in 2000 and 2012.
While the Turkish national team participates in the European Nations for the fifth time in its history, as it made its first appearance in the finals in 1996, qualified for the quarter-finals in the 2000 and semi-finals in 2008, and left the group stage in the last edition of 2016, and they also failed to qualify for the 2004 and 2012 tournaments. .
Italy national team

Goalkeeper: Donnarumma.
Defense Line: Florenzi – Bonucci – Chiellini – Spinazzolaناز
Midfield: Barilla – Jorginho – Locatelli
Forwards: Berardi – Immobile – Insigne
Turkey national team

Goalkeeper: Chaker
Defense Line: Silk – Soyunko – Demiral – Mirach
Midfield: Yokochlo – Tuvan – Karaman
Forwards: Calhanoglu, Burak Yilmaz, Yusuf Yazigi
Immobile the moment he scored the second goal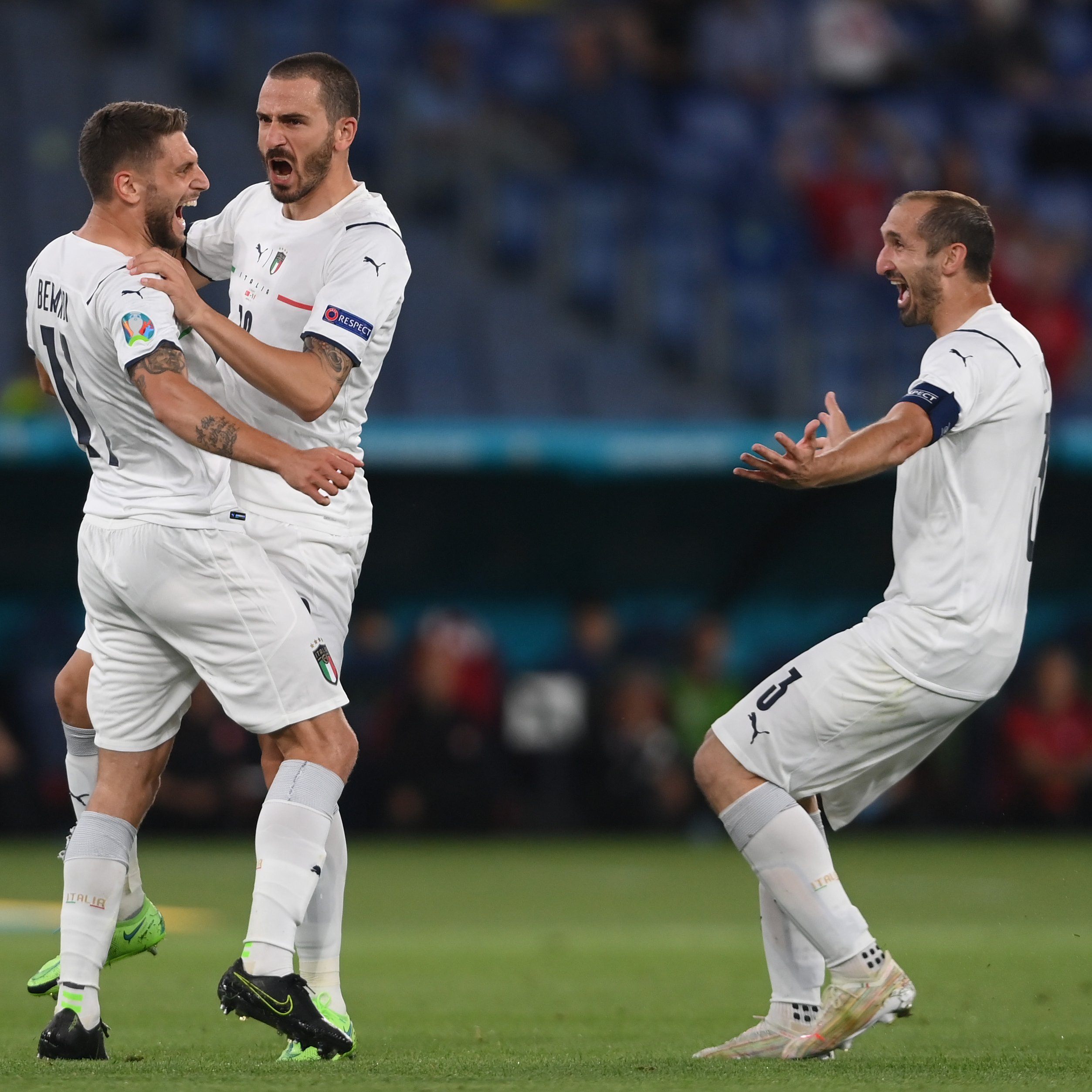 The joy of Bonucci and Berardi
The first goal ball for the Italian national team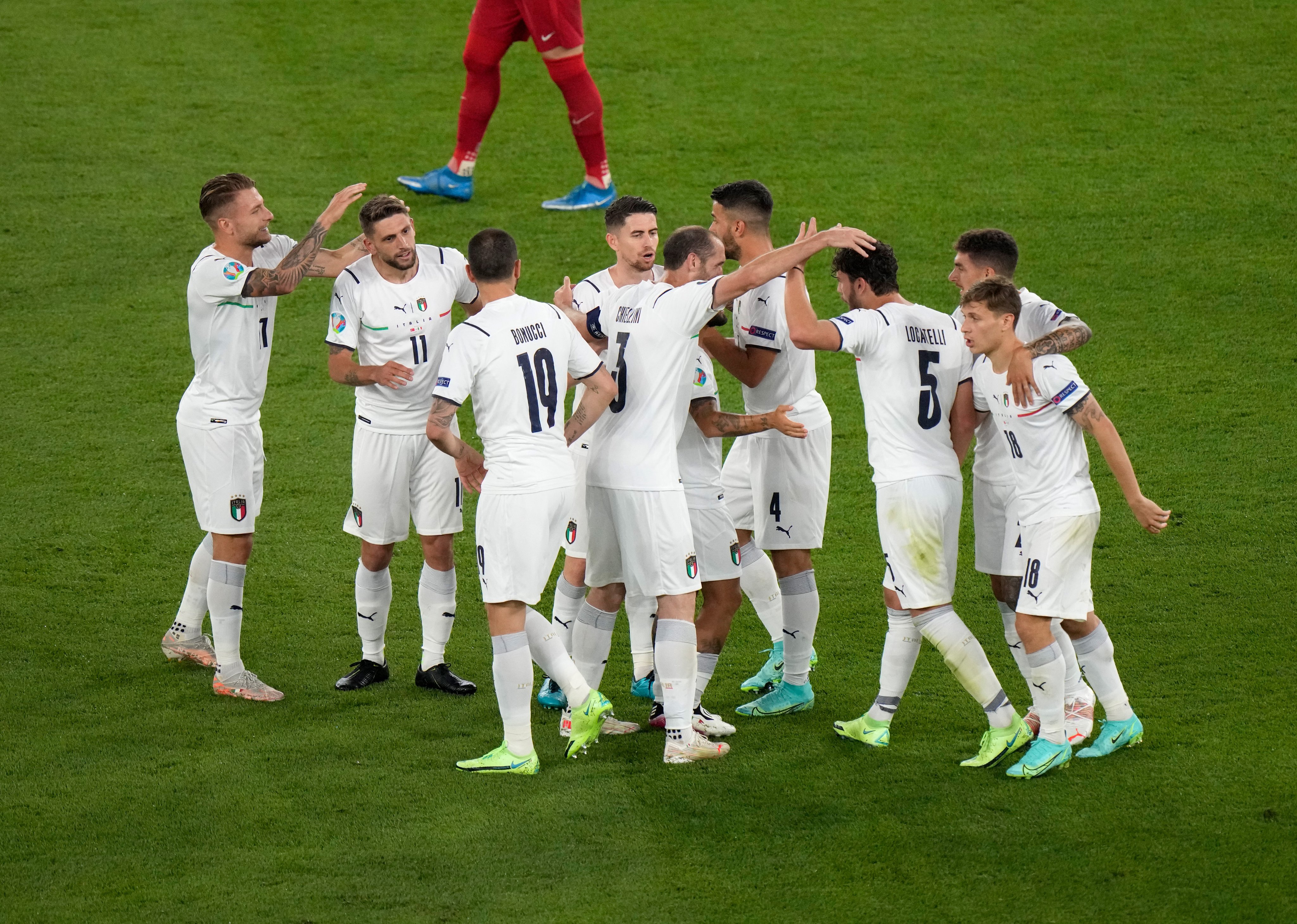 Italy national football team celebrates the first goal