Health authorities and experts are warning Victorians not to get complacent about COVID-19 testing this winter as testing rates in Melbourne begin a worrying decline.
Key points:
Epidemiologist Brigid Lynch says testing rates in Melbourne are not high enough
Health authorities are urging anyone with the mildest symptoms to get tested this winter 
It comes as authorities continue to investigate how six positive cases were infected with coronavirus
Melburnians are entering their second day of relaxed restrictions after a two-week "circuit-breaker" coronavirus lockdown.
While the state recorded zero new cases of coronavirus on Friday, health authorities were still trying to figure out how six recent positive cases caught the virus. 
Health authorities believe a Reservoir household of four and two people who travelled to Queensland were infected with the Kappa strain, but the origin of their infections was still under investigation. 
Chief Health Officer Brett Sutton said having cases with an unknown transmission link was "a really strong reason for everyone to get tested".
He said testing needed to become the norm for Victorians, who would probably need "to test once or twice or three times" this winter. 
But that doesn't appear to be happening, with testing rates more than halving over the past week. 
The past two months of COVID-19 test results in Victoria show that, as you would expect, tests spike during outbreaks and drop back in quieter times.
The past two days of results have already fallen from the record-breaking spikes hit during the most recent outbreak, where more than 380 exposure sites were listed at some points.
On Friday, authorities said they were anxious to see at least some of that testing volume sustained in the months ahead and have repeatedly warned against assuming a tickle in the throat is something else, pointing to cases during the outbreak as evidence that a delay in getting tested and quarantining could result in more exposure sites and potential points of transmission.
Last month, Professor Sutton said health authorities had revised the date at which the source case in the current cluster was infectious and emphasised the need for anyone with any symptoms, even "just a runny nose", to get tested for coronavirus so the gap between being infectious and testing positive was as small as possible.
"Don't think that it's something else," he said.
Don't assume it's 'just a cold' 
Brigid Lynch is the president of the Australasian Epidemiological Association president and said 17,000 coronavirus tests as of Friday was not as high as she would have hoped.
"Everyone would be a lot more comfortable seeing it closer to the 30,000 mark, particularly given that we're in winter," Dr Lynch said.
"Seventeen-thousand would be considered a good testing day if it was the middle of summer and there's no known COVID around and because we don't have the colds and coughs circulating as often as in winter."
She said it was "critical" people did not become complacent about testing.
"The Chief Health Officer made the point that you might go out and get a test and have the same symptoms a couple of weeks later and think I had a test and it's just a cold again, we can't fall into that way of thinking, when you start feeling sick again, go and have another test."
Testing as important as getting vaccinated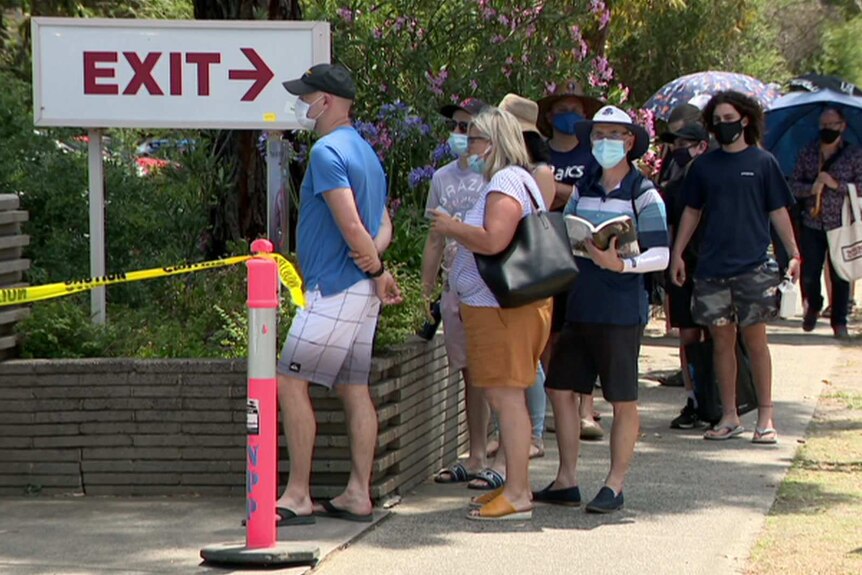 Associate Professor Lynch said people all over Australia needed to think of testing as being on par with getting vaccinated.
It can also help contain an outbreak much faster, she said, by cutting down the number of days someone who is infectious is out in the community.
"We know people are infectious for two or three days before their symptoms start and it's a lot easier for the contact tracing teams to trace two or three days in the community than it is for them to go through the past week or longer."
Associate Professor Lynch said it was understandable some may be discouraged from getting a test due to having to quarantine until the results come back, but added that turnaround times for tests were "very fast at the moment", especially compared to last year.
"Most people are getting their test results back within 24 hours so it is a slight inconvenience and we know it can be a bit of a downer I suppose if you've got something planned that day, but it's just so important. It's one day to stay at home, watch TV, read a book."
While Melbourne's outbreak hasn't been easy for the state, Dr Lynch said it wasn't serious enough yet to warrant health authorities doorknocking residents in affected areas to encourage testing like last year. 
"It does provide data to the epidemiologists about where the virus is and where it might be moving but I think the number of cases probably doesn't justify that level of intervention.
"Certainly, the community has come on board, there's been a lot of engagement with local communities to make sure the message is getting out there.
Loading form…